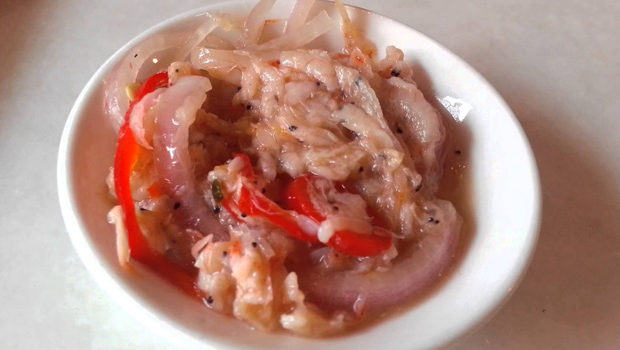 The Melaka Fermented Delights
Melaka is the land of food souvenirs particularly the fermented krill called Cincalok. Cincalok or sometimes spelled as Cencaluk is truly Malaccan and usually served as a condiment together with chillies, shallots and squeezes of lime juice. The krill, light pink in colour are readily identifiable and the taste is salty and usually acquired.
Finding the best Cincalok in Melaka is a subjective matter. Each Cincalok maker has their own acquired taste and style. The Malacca Chinese make theirs slightly different from the Malays. But generally the process requir es several steps. Krill are added with rice in equal proportions and it will then be thoroughly mixed. It will then be sealed in a jar and allowed to ferment for at least three days. One of the tricks to heighten the unique taste of Cincalok is by increasing the proportion of rice in the mixture, a trick that many Cincalok makers hold on to.
As the mixture is fermented in a glass container, the fermentation process causes pressure to build up inside the container. That is why you must be extra cautious when trying to open the glass container. You might have Cincalok bursting in your face!